Zoffany at Eye of the Collector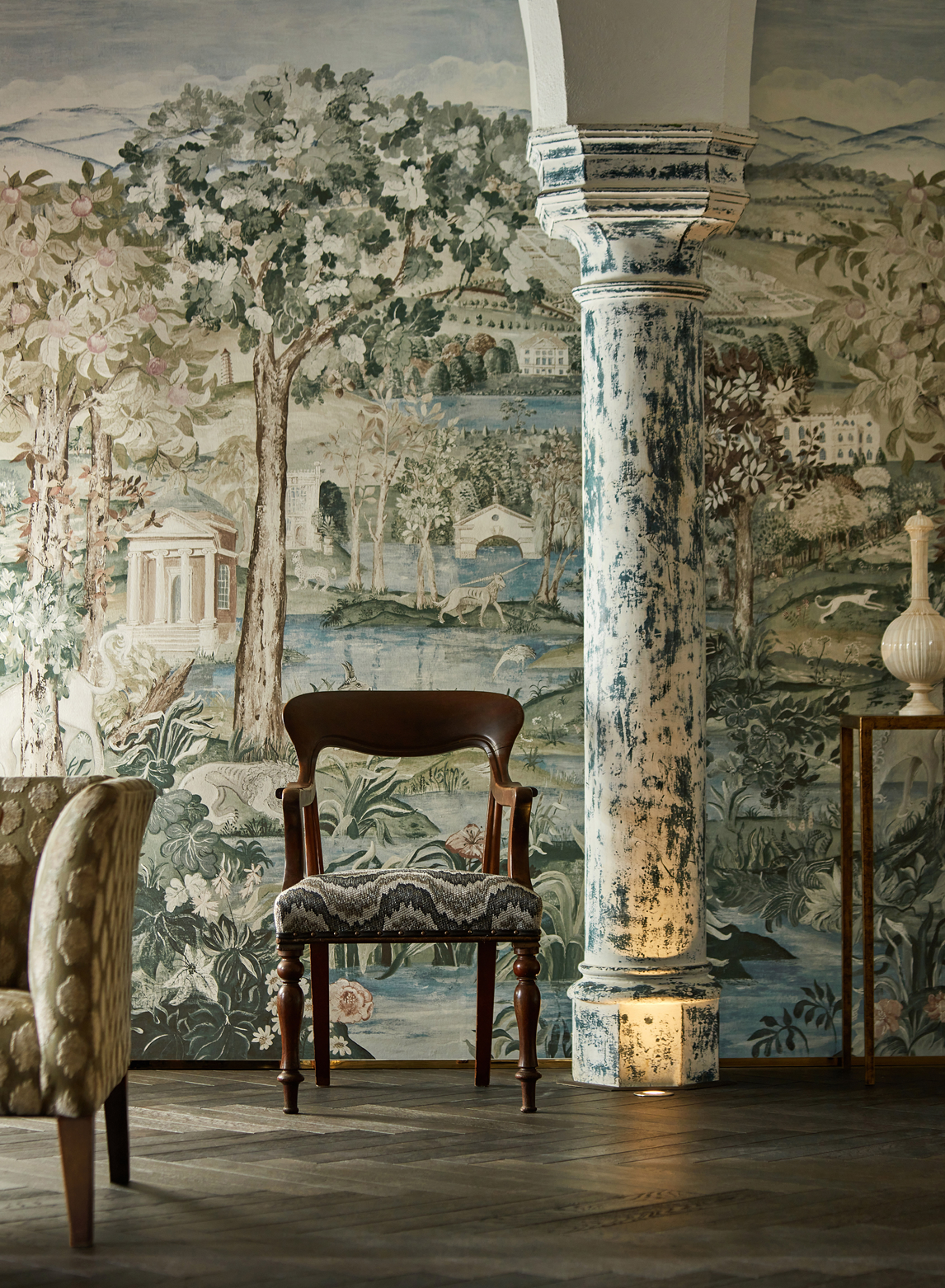 Zoffany presents a curation of artworks inspired by Arcadia, the world's oldest escapist fantasy
17th -  20th May 2023
Amongst the opulent interior of London's Two Temple Place, Zoffany introduces a showcase of works by artists Giles Round, Francesca DiMattio, Serena Korda, Markus Lupertz and Gavin Turk.
This unique curation of has been selected by art advisor, Sigrid Kirk, to reflect the historical ideals and influences of Zoffany's upcoming SS23 collection, Arcadian Thames.  
At Eye of the Collector, the Arcadian Thames, as classical Arcadia centuries before, illustrates a pastoral paradise free from restrictions and obligations. Offering a fragmentary glimpse into a similarly blissful idyll, the five artists' works pair the past with visual motifs that embody the Arcadian Thames.
Arcadia has long been considered the world's oldest escapist fantasy, an enchanting Greek landscape located amongst the ancient Peloponnese peninsula and a far cry from the civilised society of Athens. Arcadia's fascination lies in its remoteness, becoming the foremost expression of a virtuous existence. 
Installed around a commissioned screen by artist Giles Round in collaboration with Zoffany lead designer, Peter Gomez, Zoffany archive documents combine with a selection of source material to create a decorative, freestanding screen. The reverse is upholstered in exquisite fabrics from the new collection, including a breathtaking mural design commissioned by esteemed artist Melissa White, offering visitors an enticing preview of what's to come in Zoffany's Arcadian Thames collection.
This riverside event reveals the interplay between Zoffany and art. While some artists open new creative dialogues and challenge convention, others retain the magical, imaginative revival of Arcadian tranquillity.
Offering fragmentary glimpses of a blissful idyll, the five artists' works, although very different, consciously mobilise the past, re-mixing visual motifs with an emotional and imaginative connection, representative of Arcadian ideals.
Zoffany Arcadian Thames collection launches on 1st June 2023. Sign up to our newsletter to preview the collection first.
FRANCESCA DIMATTIO 
FLAMINGO CARYATID, 2019
Glaze on ceramic, 243 x 66 x 81cm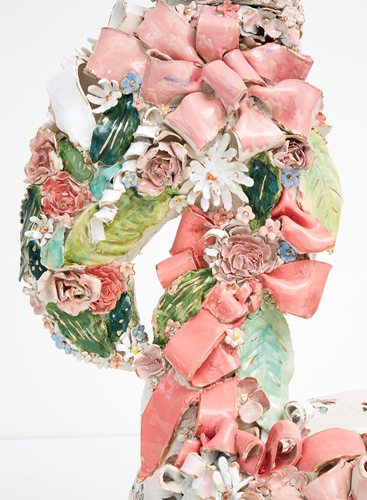 Francesca DiMattio's ceramic sculpture weaves together architectural, cultural, and historical references. 
Her exotic 'Flamingo Caryatid' takes its title from the sculpted women used as architectural columns in antiquity and is a fusion of the feminine natural and the classical. A floral pastoral meadow bursts across this hybrid sculptural column which hovers between decoration, architecture and folly.
 GAVIN TURK
 HOLY EGG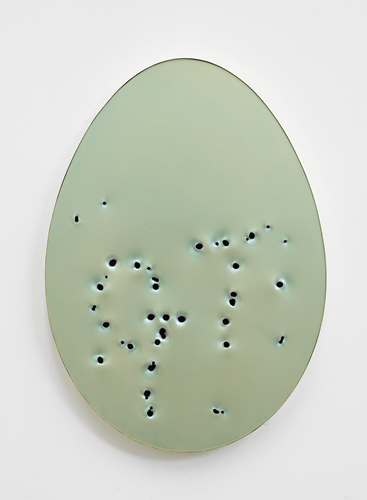 Gavin Turk's work often deals with issues of authorship, authenticity and originality. This egg-shaped painting is an appropriation of Lucio Fontana's "Fine di Dio", dramatically perforated, its rich metallic surface vandalized by the punctured holes, revealing the empty space behind. 
The egg, as a heavily-charged archetypal symbol, is evocative of the alpha and omega of all things, life and creation, originality, fragility and mortality as expressed by the sentiment "et in Arcadia ego'. For Turk, it symbolises the delicate relationship between life and art, similar to the way the naturalised gardens of the Arcadian Thames represented the delicate balance between city and countryside. The designed picturesque landscape of this new Arcadian age, a place where man and nature co-existed in perfect harmony heavily borrowed from the tradition of the pastoral.
SERENA KORDA
MIRROR MIRROR, 2015
Glazed stoneware, 54 x 55 x 45cm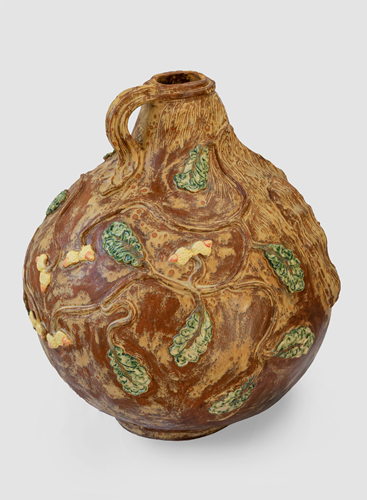 Serena Korda's practice centres around a process of world building influenced by the liminal space between past and present. 'Mirror, Mirror' is from her Jug Choir installation which drew its inspiration from the diverse historical examples of ceramic pots being used as musical instruments. As interpreted by Korda they become a sonic army, as bewitching as the neo-pagan rustic melodies of Pan or the musical figures which inhabit Zoffany's textiles and wallpaper. 
The metaphors of storytelling are drawn from the field of textile production, the weaving of plots and spinning of stories which Korda uses to gently criticise. In this sense any correlation to the Arcadian is more of a reciprocal relationship of the past to the present. 
MARKUS LUPERTZ 
SIETHEN SEE BOOT, 2020
Mixed media and collage on canvas, 100 x 81cm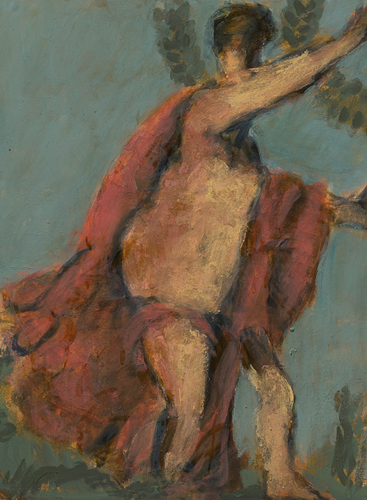 Purposefully antiquated Markus Lupertz palette and subject matter consciously employ the residue of the past. 
For the last 10 years he has been enacting the Latin phrase 'Et in Arcadia Ego' creating contemporary works out of past references. Blurred shapes and dripping motifs from familiar canonical paintings emerge like snapped off historical remnants which re-assembled turn classical pastoral scenes into something new and unfamiliar. Lupertz's 'Arcadia' is colonised and re-released. The temporal moments of 'idyll' are poised between a dissolving past and a future of vital forward motion.
GILES ROUND
DAPHNIS DAPHNIS AND PAN, LATE AFTERNOON 
4 panel screen, oil and pencil on linen, reverse upholstered in Zoffany fabric, 180 x 45cm each folded 
Giles Round is an artist who works across disciplines, including art, design and architecture. While the overall composition is based on the story of the god Pan teaching Daphnis to play the pipes, the screen brings together visual fragments from very different times to explore what an Arcadian feeling might encompass.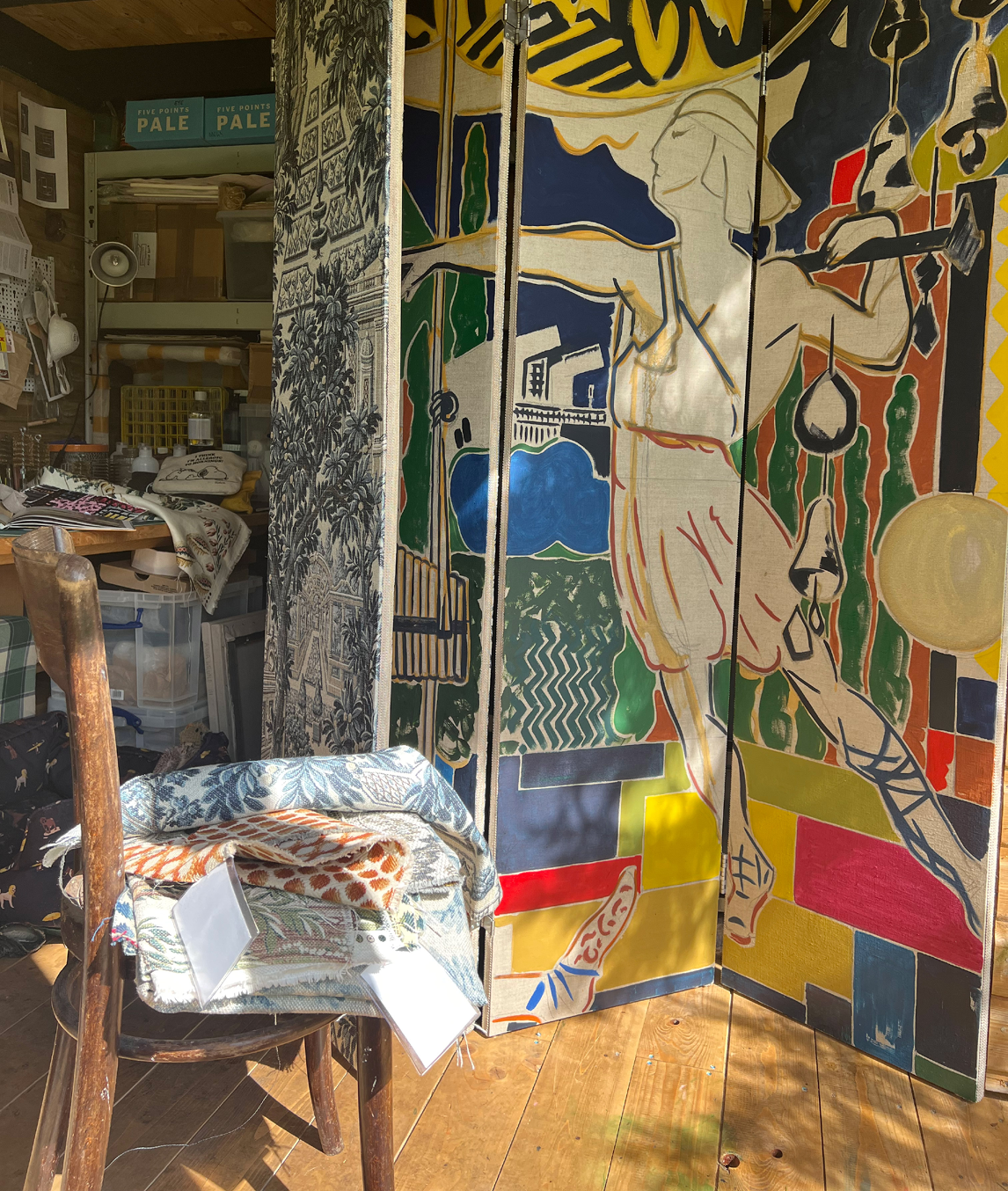 For tickets to Eye of the Collector
posted on 15 May 2023 in Interiors